PPC Healthcare has successfully installed a Brilliance 64 Slice CT Scanner at the Enugu State University of Technology Teaching Hospital. The CT Equipment will accelerate the Teaching hospital's capacity in running day-to-day diagnostic tests.
The installation had commenced as soon as the equipment was delivered to the site on May 5, 2021.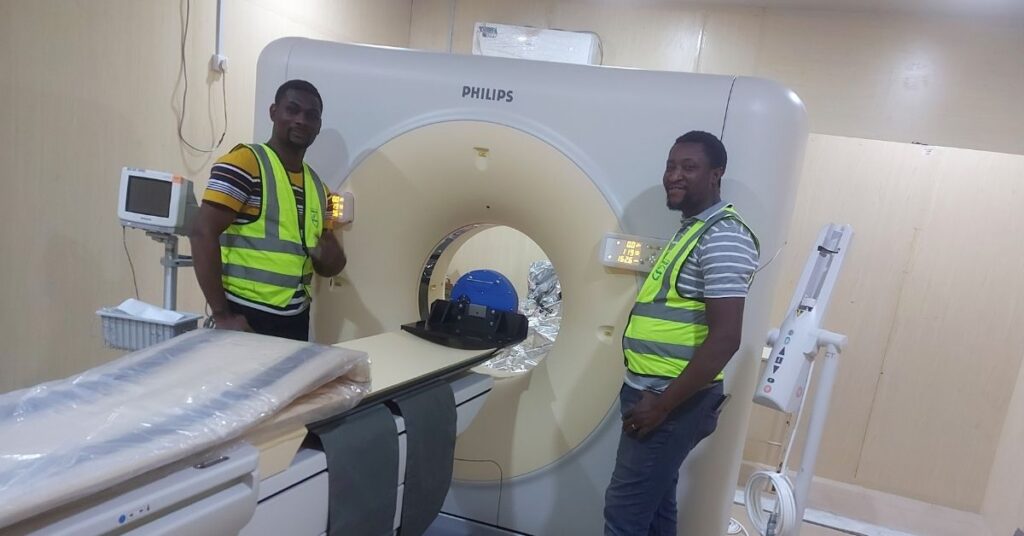 Alongside, engineers from our ICT Vertical, performed the installation of the 160 KVA UPS as a battery backup for the equipment.
The CT installation team was headed by Engrs. Daniel Ojo and Akin Akinfenwa, while Engr. Segun Rotimi led the UPS Installation team. All Installations were completed on the 10th of May.
PPC Limited Healthcare has executed different projects in different health institutions in Nigeria. These include:
Equipping of Ayinke House, Lagos State University Teaching Hospital
(LASUTH)
Equipping of Princess Medi-Clinics, Port-Harcourt
Design, building and equipping of Braithwaithe Memorial Hospital,
Port-Harcourt
Design, building and equipping of Braithwaithe National Hospital,
Abuja
Equipping of Princess Medi-Clinics, Port-Harcourt
Equipping of 26 General Hospitals in Lagos State
Equipping of 8 Federal Medical Centres across the Federation
Equipping and Service Contract with Lagoon Hospital, Lagos
Equipping and Service Contract with Zankli Medical Centre, Abuja
PPC Healthcare's expertise lies in delivering healthcare solutions ranging from concept development, execution (design, build, equip and maintain), providing required applications and biomedical training as well ensuring a constant supply of needed consumables.
The healthcare vertical leads in the provision of innovative healthcare solutions, offering best-in-class engineering capabilities aimed at promoting qualitative healthcare in Nigeria and beyond. For more than 25 years, PPC Limited has delivered quality healthcare solutions and services across the country.