What is the price of elevators in Nigeria? What are the cost-influencing factors?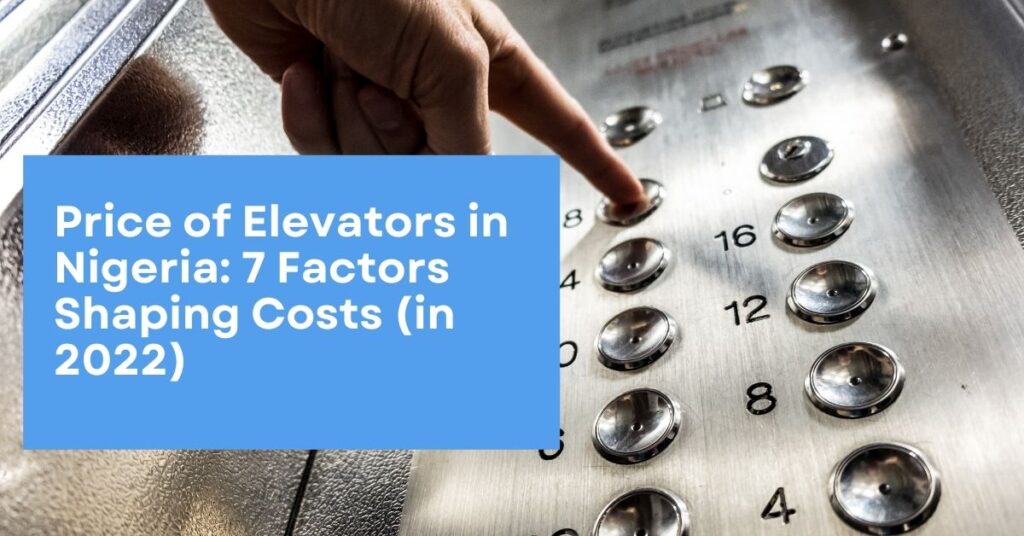 If you need to purchase an elevator, you should be aware of the factors that determine their market value so that you can make an informed decision.
The cost of an elevator is framed by a variety of factors. However, by combining them, you can make the best decisions and maximize your opportunities.
So, what are the conditions influencing the price of elevators in Nigeria?
Ready?
Let's get started.
1. The Elevator Manufacturer
The cost of an elevator is determined by its brand. The prices of various brands on the market, such as Otis, Kone, Schindler, Mitsubishi, and others, vary.
For example, it is common knowledge that American and European elevator brands are more expensive than Asian brands.
So, when determining how much an elevator will cost in Nigeria, the brand is an important factor to consider.
2. Factory Location
The location of an elevator factory has an impact on its market price. Elevators manufactured in the West (particularly in Europe) are known to be more expensive.
This cost variation will be caused by factors such as production costs, tax rates, and others.
As a result, if you are thinking about installing an elevator, keep in mind that the factory location of an elevator will affect its cost.
3. Interior
Some lifts have panoramic views (glass) inside, while others have marble floors instead of PVC floors. The interiors of all lifts are not the same.
As a result, the interior of a lift affects its market value.
Furthermore, the lighting in an elevator's interior varies.
As a result, a machine with LED lighting will have a different rate than one with an LCD.
4. Travel Height
The longer an elevator travels, the more it costs. This is attributable to the fact that the travel height of a lift determines the Hoist Motor used.
High-rise structures with longer travel heights necessitate a faster hoist motor, which will undoubtedly affect the machine's cost.
5. Special Requirements
Lifts that are designed for a specific purpose are typically more expensive. For example, a fire-fighting lift will be more expensive than a general-purpose lift.
A double entrance or through lift will also cost more than a single entrance lift.
As a result, lifts with distinctive features will command a higher market price.
6. Exchange Rate
Elevators are imported because they are not manufactured in Nigeria. Thus, current exchange rates influence purchases, which in turn influence their market value in Nigeria.
At the moment, this is a major factor driving lift prices across the country.
Higher exchange rates will undoubtedly result in higher costs.
7. The Installation Company
You will need the services of a reputable company to purchase and install your lift.
As a result, the company's fees are another important factor that will influence installation.
An elevator installation company's rates in Nigeria can vary depending on factors such as labour, transportation, and clearing costs.
Furthermore, the company's relationship with the original equipment manufacturers (OEMs) and your bargaining power can influence the overall cost of installing your lift.
Conclusion
To work out the price of elevators in Nigeria, it is imperative to bear in mind the factors discussed which are: elevator manufacturer or brand, factory location, interior, travel height, special requirements, currency exchange rate, and the installation company.
If you have these handy, you will be well-guided on your journey to determining the price of elevators in Nigeria.
It is also important to note that lifts are not off-the-shelf items. As a result, the delivery time from manufacturing to installation and commissioning is at least 6 months.
When lifts are required in a project, it is critical to take this delivery period into account.
---
Do you need to purchase an elevator for your building project? Our experts can assist you at every step of the way.
Contact us at +234 (0) 706 897 1010
---
Read also: PPC Partners Uraga Limited on 11KV Generators Installation at Sagamu
---
Authors
Oluwole Dada
A vertical and horizontal transport specialist with 15 years of elevator project management experience, including procurement, installation, and maintenance. Wole completed Traffic Analysis training in Finland and Special Projects Training in the UAE. He is currently in charge of lift projects at PPC Limited.
Babatope Famokun
Hubspot-certified content specialist and content writer at PPC Limited.